Covenant House opened its doors in 1995. One of two facilities established by Gerd Strauss and Hans Spear in partnership with B'nai B'rith International. It consists of 119 apartments and well-equipped common areas that enable the residents to feel at home anywhere in the building.
Over 30 years ago, a grant request was submitted to provide safe and affordable homes to low-income seniors. This provided an opportunity for a vision to be realized for a handful of very determined individuals with a genuine interest in providing affordable housing to older adults.
HUD had established a PRAC202 housing program that provided eligible residents with affordable housing. B'nai B'rith Housing, now referred to as The Center for Senior Services (the largest national Jewish sponsor of federally subsidized housing for the older adults in the US), had already collaborated with HUD, sponsoring many other affordable housing communities across the nation.
Gerd Strauss and Hans Spear, both Holocaust survivors and Richie Boys, were instrumental in bringing together the experienced and knowledgeable B'nai B'rith staff with local Tucson leaders and HUD project developers to lay the ground work for this unique housing community.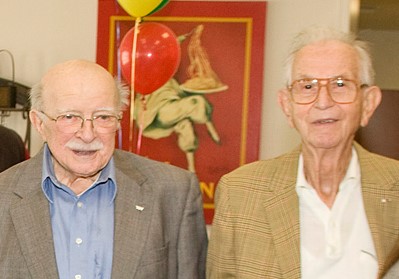 Gerd Strauss and Hans Spear
The Covenant House Board of Directors was formed and with the support of HUD and B'nai B'rith, Tucson's first B'nai B'rith affordable housing community was created dedicated to helping older adults receive affordable housing so they could age in place with dignity. The first B'nai B'rith HUD apartment complex, Covenant House, opened its doors to all eligible older adults in 1995.
The need was so great in Tucson for affordable housing that shortly after opening and being fully occupied, in 2000, planning started to build additional units onto Covenant House.
Many people have chosen to call Covenant House home and have remained here for 25 years, as we still have one or two of the original residents. We welcome you to join us in making this your home!
Covenant House is professionally managed by Biltmore Properties, Inc, a specialized, experienced property management company. With decades of experience, Biltmore has the knowledge and experience needed to navigate the extensive HUD regulations.
Their expertise is a vital part of keeping Covenant House a great place to call home.
Our Board is made up of dedicated community volunteers who have a wide range of knowledge, expertise and a passion for giving. Through their fundraising efforts, our Board is able to provide a full range of activities that help to enrich the lives of our residents.
Board Members
• Abbie Stone • Susan Hopkinson • Marshall Herron
• Pattie Martin • Honey Manson • Bill Addison
• Ruth Osobow • Artie Spencer • Stacy Berwick